Home | Reviews Home
---
Chip 'n Dale: Rescue Rangers (NES)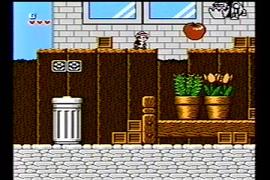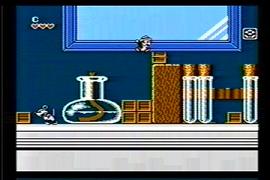 There was a time when a game being based on a movie or television show didn't automatically give one the notion that it was likely to be an uninteresting game. On the other hand, much of that also had to do with Capcom. That particular company had their hand in a number of games based on things like this, and turned out quite a number of gems in the process. Games which weren't just excuses to stick some characters into something, but excellent games which just happened to have characters which were from somewhere else. They all still had ties and references to what they were based on, it's not like they completely ignored that aspect of it, but the matter of primary concern was creating a game which was fun, regardless of if one had any interest in what it was based on. Then, for someone who wasn't, they could enjoy the game very much anyway, while if one was interested in what it was based on, one also had a very interesting game to play as well.
Of all the games they worked on based on various licenses, Chip 'n Dale: Rescue Rangers was definitely one of the tops. The game has at its core a formula that worked so well in many other NES games, that of a 2D platformer. Of course, there are many great NES games which have this particular core already, but, this game does a number of things which manage to make it stand out from the group. It took that something which works well, and used it to form into a very interesting game.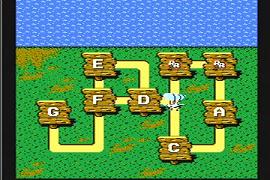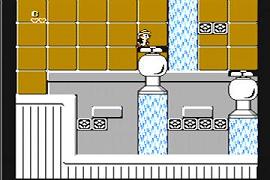 The outset of the game is fairly simple enough. Your neighbor Mandy has lost her kitten, and the Rescue Rangers are out to save it. Of course, saving a lost kitten is just asking for trouble, as later on in the game Gadget (one of the Rescue Rangers) will be kidnapped by Fat Cat (the Rescue Ranger's perpetual enemy of sorts). Playing as a single player, one begins the game by choosing to play as either Chip or Dale, heading off to solve all these problems and stop Fat Cat. Along the way, you'll also come across your friends Monterey Jack and Zipper who will offer some help as you progress your way through the levels toward your goal. Definitely not the most complex or involved plot or progression, but, it's a nice little thing to move the game along, and the fun is really in the actual play of the game anyway.
The style of the game, again, is fairly straightforward as a platformer type of action. You'll find yourself jumping across platforms, picking up items, using objects to throw at enemies or otherwise avoiding them, to make your way toward the end of the stage. At the end, you'll also have a boss enemy of the stage to deal with, before being able to make your way out of there. After finishing the first level, you'll find yourself out on a main map screen, from where you'll choose the next level to enter. While things are fairly direct there as well, you do have a bit of a choice at times as to which level to enter, so that you don't necessarily need to beat all of the levels in order to progress through the game. So, if one is just looking to go straight toward the end, one doesn't necessarily have to go through everything the game has to offer. Still, all of the levels are very interesting, either to explore when one is going through the game, or to give one something different to do on further playthroughs.
The levels themselves are a very interesting part of this game as well. On one's journey to stop Fat Cat, one will find themselves traveling through all sorts of interesting areas. One will pass through places such as a laboratory, over cooking pots, through a toy factory, and other such locations. Each of these places comes with its own unique style, so that playing through each of them really feels like its own particular adventure. One also comes across a number of different enemies, with an assortment of attack styles and ways to approach them. So, playing through the entire game, and each of the levels (and note, what's shown up there in that map screen isn't everything there is to the game), really makes for a very interesting experience overall.
Another thing the game has going for it, is both its look and its sound. Not only are all the levels very unique in their style and play, but they are all made up very well, with nice attention to detail and variety. Everything in the game looks bright and interesting, and really fits the mood of the game very well. Likewise, the game has some very nice music, both through the course of the levels and for the boss fights. While it's nothing that's really going to jump out as amazing in either of these aspects, they're both very well done, and complement the feel of the game nicely.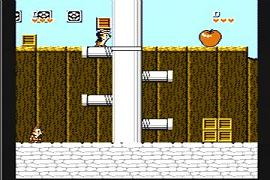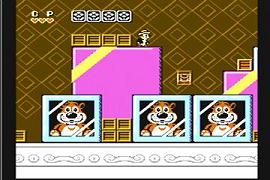 One thing that really makes this game stand apart from the crowd, however, is a two-player cooperative mode. While one can play through the game just fine by oneself as either Chip or Dale, the fun really shines when one joins up with a friend, each controlling one of these characters on their way through the levels. At times things can seem a bit awkward or chaotic while doing this, but, it's definitely a very interesting thing. One limitation of playing like this, is that both players have to stay on the same screen, so that if one player is stuck dealing with a troublesome enemy, even if the other player is ready to move on, they'll have to wait, since they can't just leave the other player there. Of course, they could also go back and help them, which would be the nice thing to do. A not nice thing to do, though, is that while one can pick up items and throw them around, one can also pick up the other player and throw them around. This does at times have useful purposes, such as being able to easily reach a higher area or something. On the other hand, one could also choose to throw the other member into a dog or down a hole or something. It wouldn't be very nice, but, it can be fun anyway.
Even if one doesn't decide to play through every level the game has to offer, it's of a decent length, having a number of levels to play through on one's way toward the end. Likewise, the game offers a nice challenge, definitely not feeling too easy as one is progressing through the levels. So, one will have to work at things to make one's way through the level, and while with a good amount of persistence one will eventually make it through the game (it's definitely not overly difficult), it is a nice little challenge to go along with the fun. Once one has finished the game, one can then try some of the other levels for further playthroughs, which can give one some interesting new things on following times playing. Or, simply one can choose to go through again just because of how fun the game is to play. It's definitely something that will keep one coming back, either to check out the different levels, play through to the end, or fool around with a second player trying out the experience of playing through the game that way. No matter how one chooses to go, it's definitely a very enjoyable game, regardless of what it may be based on. A fun game for people who are interested in the show, with many things from that, but a great game on its own for anyone.